PLACEMENT MUSIC ROCKS AN AUDIENCE OF 100 MILLION+ IN MORE THAN 200 COUNTRIES. TUNE IN SUPER BOWL SUNDAY, FEBRUARY 6, AT 5:52 PM EST ON FOX TO HEAR PLACEMENT MUSIC'S "DECLARATION ANTHEM"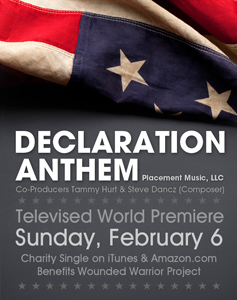 CHARITY DOWNLOAD OF "DECLARATION ANTHEM" FEATURED IN FOX SUPER BOWL SALUTE TO AMERICA TO HELP U.S. WOUNDED SOLDIERS.
Track Available After Kick-Off on iTunes and Amazon.com to Benefit Non-Profit Wounded Warrior Project
"Declaration Anthem," the score produced by award-winning Placement Music, LLC for the FOX SUPER BOWL SUNDAY presentation of the 'Declaration of Independence, will be available as a charity single and ringtone on iTunes and Amazon.com after kick off.  A portion of proceeds from the full-length score, a radio edit and ringtone goes directly to benefit Wounded Warrior Project. The non-profit, whose mission is to honor and empower wounded warriors, reports an estimated 40,000 U.S. service members have been wounded in the current world conflict alone, and more than 300,000 suffer from post-traumatic stress disorder (PTSD).
"Placement Music is proud of 'Declaration Anthem' and our collaboration with Steve Dancz and FOX Sports, and we want all of the men and women who are active duty or retired military to know how proud we are of them and how grateful," said Tammy Hurt, founder of Placement Music and co-producer of the track. "Our organization too was founded on trust, collaboration, community and pushing each other to reach new individual milestones collectively. We are honored to make 'Declaration Anthem' accessible to the world and hope everyone watching on Sunday will be compelled to do what they can to help Wounded Warrior Project."